Are you wondering what to do during holidays in Greece in 2023? Are you searching for the next place to explore with your loved ones, capturing countless photos to cherish forever? Our company, El Greco Tours, has the solution! Summer is the perfect time for an unforgettable getaway to the enchanting islands of the country and the mainland. Thus, we have selected three distinct destinations that are worth visiting at least once in your lifetime.
Below are our suggestions with summer destinations that promise unique vacations in Greece.
Where should I go on vacation in Greece?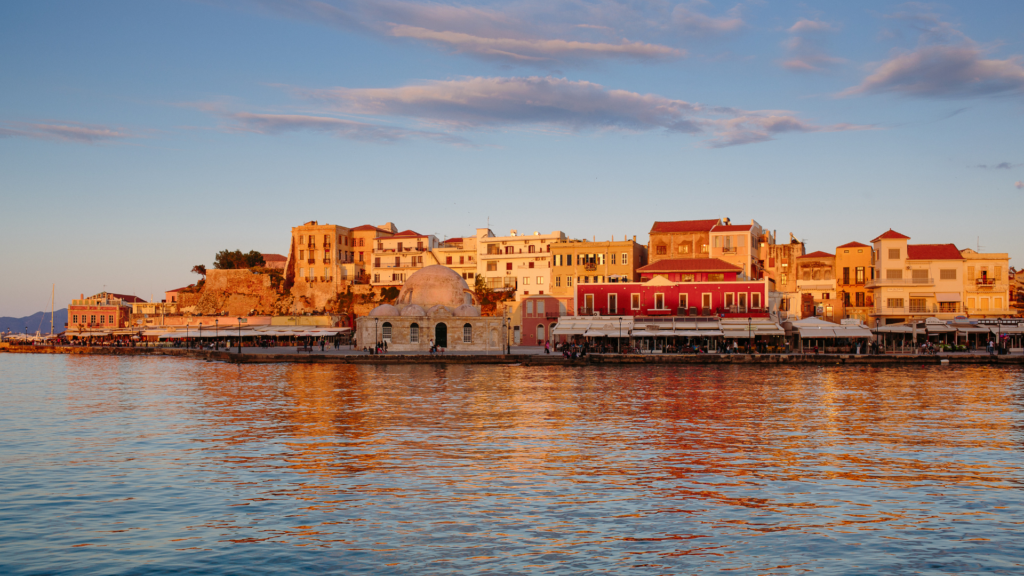 Picture by: novvy
1. Escape to Crete – the Legendary Island
Initially, Crete, the largest Greek island, is one of the most beautiful and bustling destinations in the country. The island offers a fantastic experience to every traveler and undeniably provides the most unforgettable moments. In general, there are many reasons that make the island stand out, but let's explore some of them:
Natural Beauty: Crete is known for its stunning landscape. From vast mountains and natural gorges to coastlines and azure seas, the island's natural beauty will enchant you. Additionally, everyone has heard about the Samaria Gorge which is located in the region of Chania and attracts thousands of visitors yearly. This gorge is the largest in Europe and offers a unique hiking experience.
It is also worth noting that Crete boasts some of the most beautiful beaches in Greece. From secluded beaches with golden sand to picturesque harbors, there is a beach for every preference. One beach that stands out for its uniqueness is Balos. Read this article if you wish to discover the best beaches in Crete.
History and Culture: Crete has a long history dating back from prehistory to classical times and beyond. Its archaeological heritage, with the Minoan Palaces, is impressive. Furthermore, the local traditional dances, music, and gastronomy offer a unique taste of Cretan culture. Knossos: This indigenous archaeological site of the Minoan palaces, Knossos, is one of the most important archaeological sites in Crete and Greece.
Cultural Events: Crete hosts many traditional events and festivals throughout the year, making it an ideal destination to experience local culture and enjoy unique experiences. The people of Crete are known for their warm and friendly hospitality. You will feel welcomed and at home.
In other words, a trip to Crete will undoubtedly be an memorable adventure, combining natural beauty, rich history, and vibrant culture.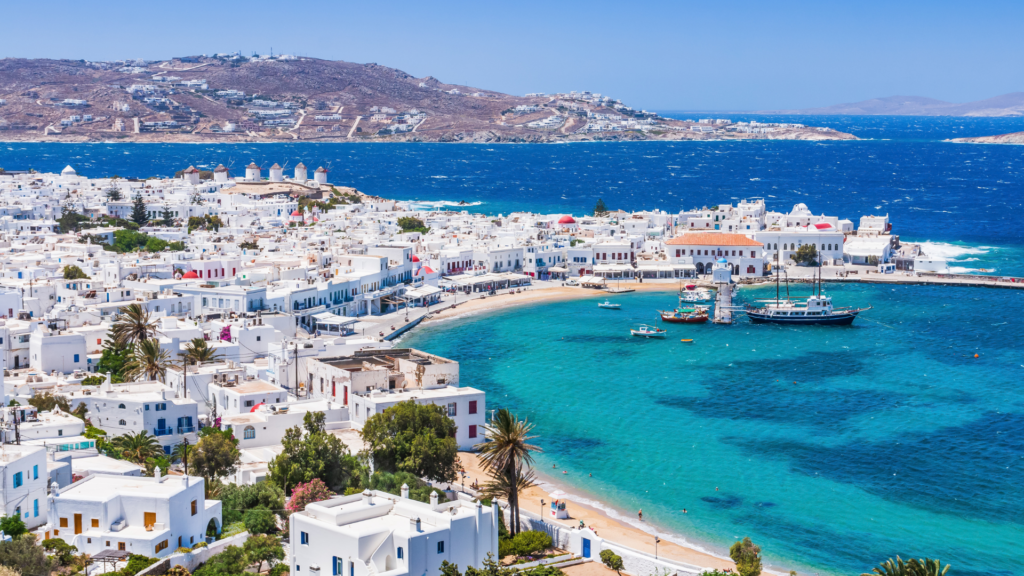 Picture by: carmengabriela
2. Mykonos – the Las Vegas of Greece
What happens in Mykonos, stays in Mykonos. The most famous island in the Cyclades is one of Greece's most renowned and bustling destinations. Undoubtedly, it is worth visiting for many reasons:
Amazing Beaches: Mykonos offers a plethora of beautiful beaches with crystal-clear waters and golden sand. Look for the famous Super Paradise, Paradise, Psarou, and Elia beaches for unique swimming and carefree experiences.
Vibrant Nightlife: It is no coincidence that many characterize Mykonos as the "Las Vegas" of Greece. Specifically, the island is known for its intense and lively nightlife. Famous nightlife spots like Mylos, Chora, and Psarou are flooded with music, dancing, and entertainment until early morning.
Unique Architecture: Mykonos' architecture is one of the most characteristic and charming cultural aspects of the island. Specifically, the island's unique architecture is deeply rooted in local tradition and combines adaptability to the natural environment with the traditional Cycladic character. The alleys of Chora and the windmills are equally characteristic of the architecture of the famous island.
Cosmopolitan Environment: Mykonos is known as a destination for many celebrities and wealthy travelers. Visitors have the opportunity to enjoy luxurious holidays in Greece, personalized services, stores with world-renowned brands, and fantastic restaurants.
Enchanting Sunsets: Mykonos offers enchanting sunsets. Visitors can enjoy the incredible colors of the sun as it sets from various points on the island.
These are some of the reasons why Mykonos is a unique destination worth visiting during your holidays in Greece. Whether you are seeking cosmopolitan fun or relaxation by the sea, this island has something to satisfy every preference.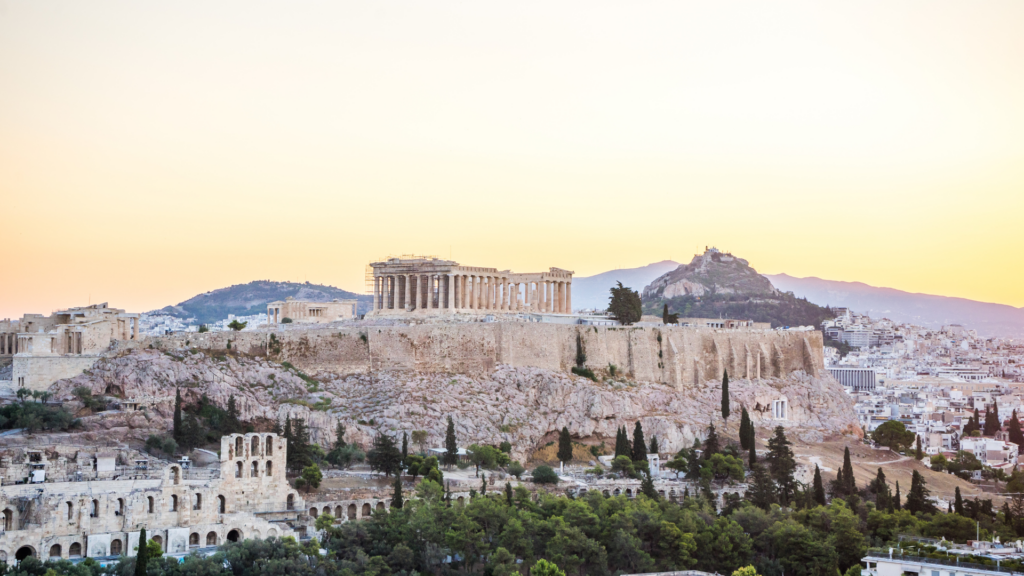 Picture by: Leonhard_Niederwimmer
Athens – Where the Past Meets the Future
Athens, the capital of Greece, is a city with a rich history and culture. Combining tradition with a modern way of life, Athens is a unique destination that attracts millions of visitors every year. Below are some reasons that make this renowned city an ideal destination for summer vacations in Greece.
Historical Landmarks: Athens has many historical landmarks that take us back to ancient times. You can visit the Acropolis, stroll through the historic Syntagma Square, or take a short trip to Cape Sounion.
Beautiful Parks and Gardens: Athens offers many beautiful parks and gardens where you can enjoy nature during the warm summer months during your holidays in Greece. The National Garden, the Pedion tou Areos, and the Stavros Niarchos Park are some of the favorite places for both residents and visitors.
Summer Festivals and Events: During the summer, Athens hosts numerous theater, music, and film festivals under the open sky. You can watch theatrical performances at the Herod Atticus Odeon, attend music festivals at various locations in the city, and enjoy free film screenings in squares and public spaces.
Nightlife: Athens is well-known for its vibrant nightlife, especially during the summer. Crowded squares, bars, and nightclubs offer unique entertainment and relaxation experiences.
Summer Atmosphere: Athens has a distinct atmosphere during the summer. The warmth, vivid colors, sunny squares, and liveliness create a unique energy that contributes to an unforgettable experience of the city.
Overall, Athens in the summer is a city that combines history and culture with entertainment and recreation, offering a wide range of experiences for its visitors.
Conclusion
In summary, summer vacations in Greece offer the perfect experience of natural beauty, gastronomic delights, culture, and hospitality. It is a destination that satisfies all the needs and preferences of visitors and leaves an unforgettable impression in their hearts and souls.