Are you planning to visit Greece and wonder where to stay in Athens? Choosing the right place for your holidays is a pivotal decision that can significantly enhance your travel experience. With a rich history, stunning architecture, and a blend of ancient and modern culture, Athens offers a diverse range of neighborhoods and accommodations to suit every traveler's preferences. Moreover, whether you're a history enthusiast, a foodie, or an art lover, Athens has something for everyone.
Let's delve into some of the best areas to stay in Athens to make the most of your visit.
List of Where to Stay in Athens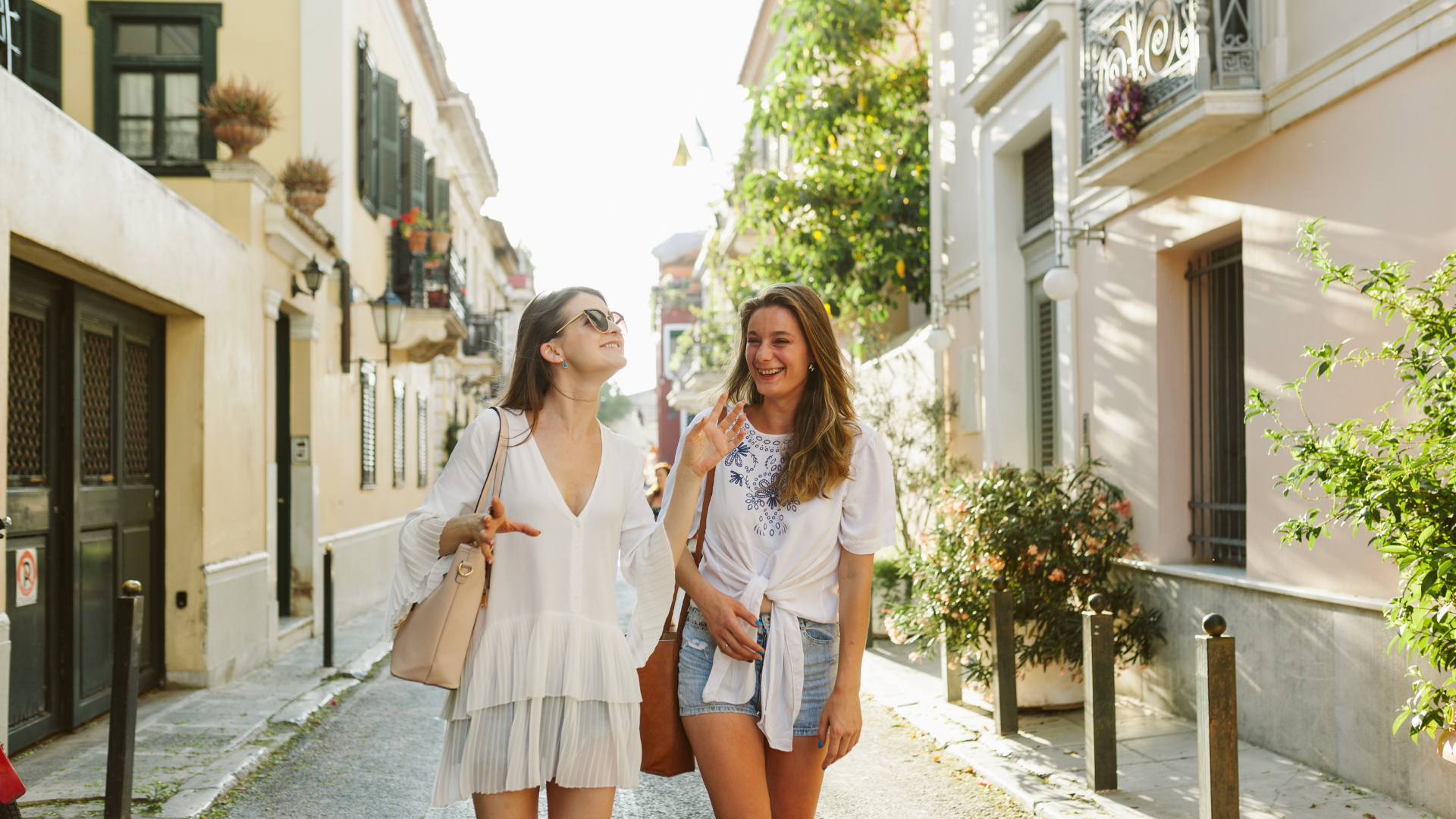 Picture by: visualspace
Plaka: The Historical Heart
If you're seeking an immersive experience, look no further than Plaka. Nestled at the foot of the Acropolis, Plaka stands as a testament to Athens' grand history and timeless charm. Specifically, this historical neighborhood exudes an enchanting atmosphere, where winding alleys lead to hidden courtyards, and ancient ruins coexist harmoniously with modern life. Plaka is often referred to as the "Neighborhood of the Gods," and for good reason.
Did you know that it is one of the oldest neighborhoods in Athens? In fact, Plaka's labyrinthine streets were once walked by philosophers, artists, and scholars, contributing to the area's intellectual and cultural significance. Additionally, staying in this neighborhood allows easy access to some of Athens' most famous landmarks. For example, The Acropolis, the Acropolis Museum and etc. offer captivating experiences that showcase Athens' ancient history and vibrant contemporary culture.
If you're looking for a place to stay in Plaka, our top suggestions are:
2mazi Suites: A boutique hotel that seamlessly blends modern comfort with the timeless charm of Athens' past. Moreover, it gives travelers an exquisite retreat where every detail is meticulously crafted to provide an unforgettable stay in the cradle of civilization.
Click here to find out more.
Electra Metropolis Athens: If you're seeking a luxurious accommodation in the center of Athens, the Electra Metropolis Athens is a prime choice. This five-star hotel secures a captivating experience that caters to both leisure and business travelers.
Click here to find out more.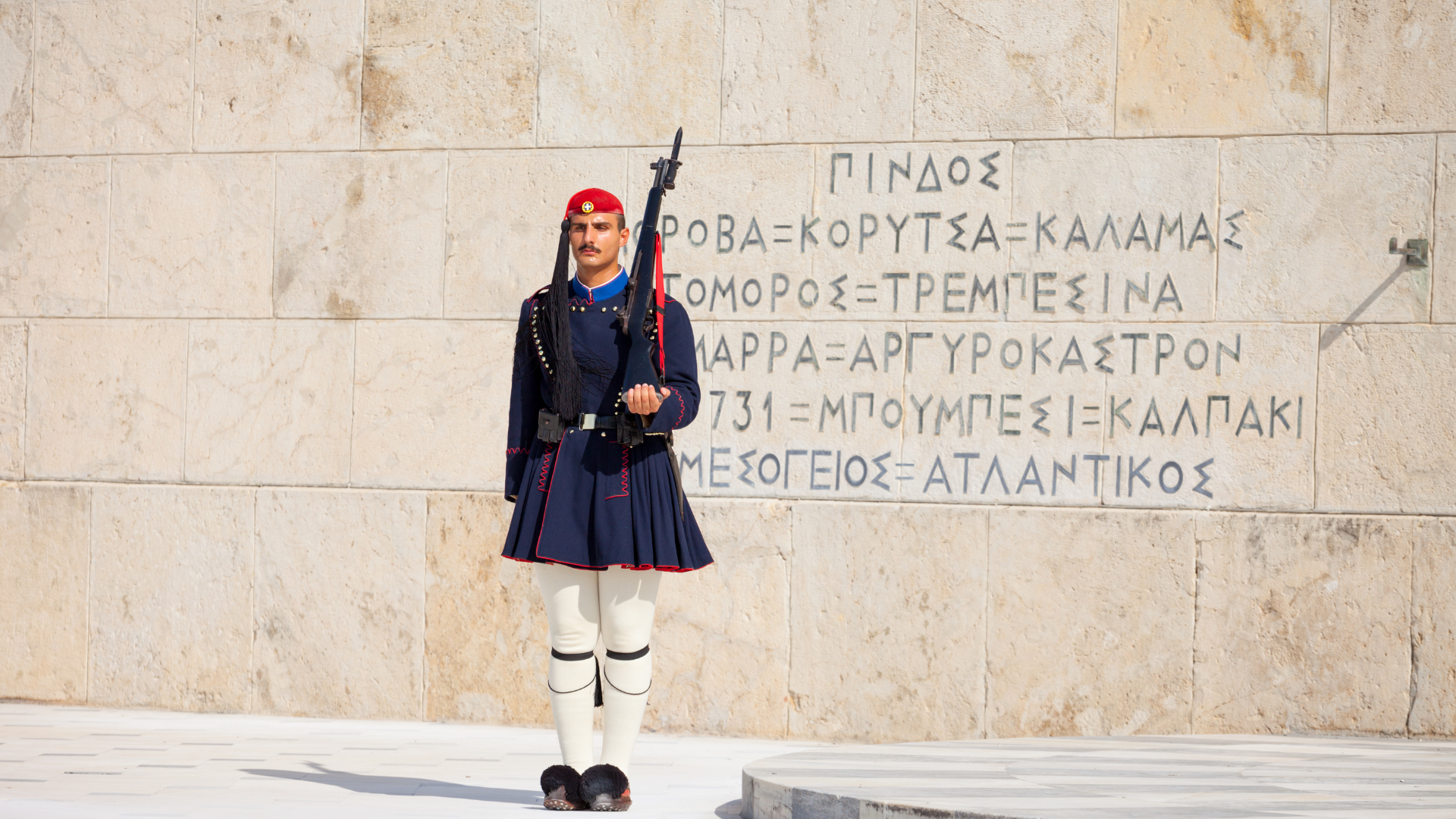 Picture by: Andrey Khrobostov
Syntagma Square: City Center Convenience
Syntagma Square, often referred to simply as Syntagma, is more than just a square; it's a dynamic epicenter that pulses with the energy of Athens. Furthermore, tt is a must-visit destination that offers a multifaceted experience for both locals and visitors alike.
Dominating the square is the Greek Parliament building, known as the Hellenic Parliament. This neoclassical structure is a symbol of Greece's democratic traditions and a testament to its history. Also, the most iconic feature of the Parliament is the Tomb of the Unknown Soldier, guarded by the Evzones – the ceremonial guards dressed in traditional attire.
As the day transitions into night, Syntagma Square continues to thrive. In fact, the square comes alive with street performers, musicians, and vibrant displays of Athenian nightlife. Many cultural events and festivals are also hosted in the square, providing a glimpse into the city's contemporary cultural scene.
If you're looking for a place to stay in Syntagma Square, our top suggestions are:
Belle Epoque Suites Athens: This boutique accommodation offers a unique blend of old-world charm and modern sophistication. It captures the spirit of the Belle Époque era, which was known for its elegance, opulence, and cultural refinement. Besides, with its central location, luxurious accommodations, and personalized service, Belle Époque Suites Athens provides an intimate and enchanting experience for travelers seeking a memorable stay.
Click here to find out more.
The Vault Athens: A prestigious luxury hotel that beckons travelers into a world of refined opulence and contemporary design. Located within the vibrant center of Athens, this upscale accommodation offers a sophisticated haven where modern comfort meets historic charm.
Click here to find out more.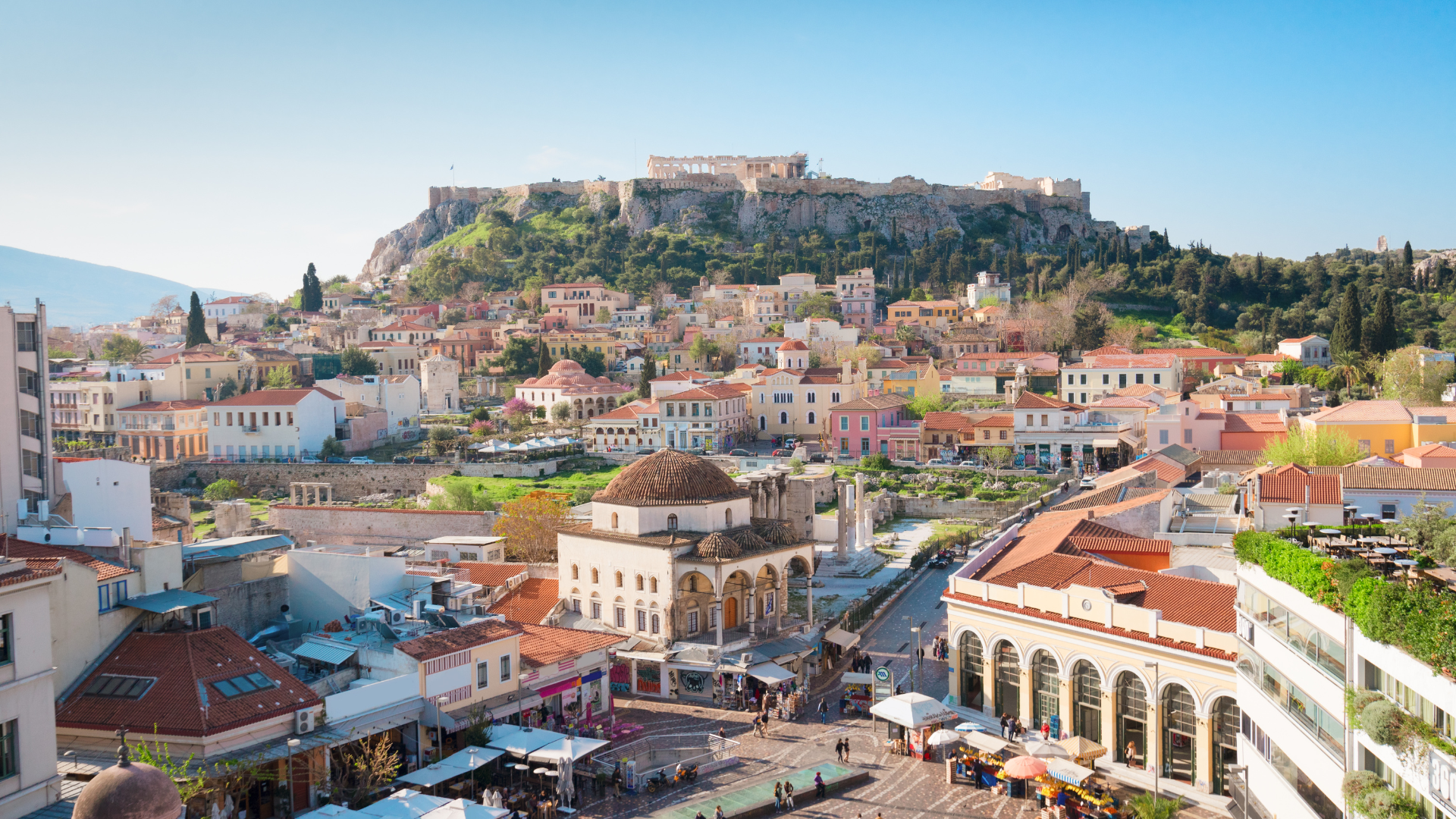 Picture by: Anastasia Collection
Monastiraki: Markets and Culture
Monastiraki is a vibrant and eclectic urban hub. Specifically, this bustling square is a captivating blend of history, culture, commerce, and artistic expression. Nestled between the Plaka neighborhood and the Monastiraki Flea Market, the square is a vibrant tapestry of colors, sounds, and experiences that encapsulate the essence of Athens.
One of the square's main attractions is the Monastiraki Flea Market. This bustling open-air market is a treasure trove of antiques, handicrafts, clothing, jewelry, and unique souvenirs. Thus, wandering through the labyrinthine streets of the market, visitors can discover a wide range of items that reflect the culture and creativity of Athens.
Beyond the Monastiraki Flea Market, the surrounding streets have many shops offering an array of products. From traditional ceramics to contemporary fashion and accessories, the area caters to both souvenir seekers and avid shoppers alike.
If have trouble finding where to stay in Athens Monastiraki, our top suggestions are:
Athens 21 Boutique Hotel: A modern oasis that embodies comfort, style, and personalized hospitality. This chic and contemporary hotel offers a respite from the bustling city while providing easy access to Athens' cultural and historical treasures.
Click here to find out more.
NLH Monastiraki: A dynamic and artistic boutique hotel that offers travelers a truly unique and immersive experience. Furthermore, with its distinctive design, contemporary aesthetics, and dedication to showcasing local creativity, NLH Monastiraki offers a one-of-a-kind stay in the vibrant capital of Greece.
Click here to find out more.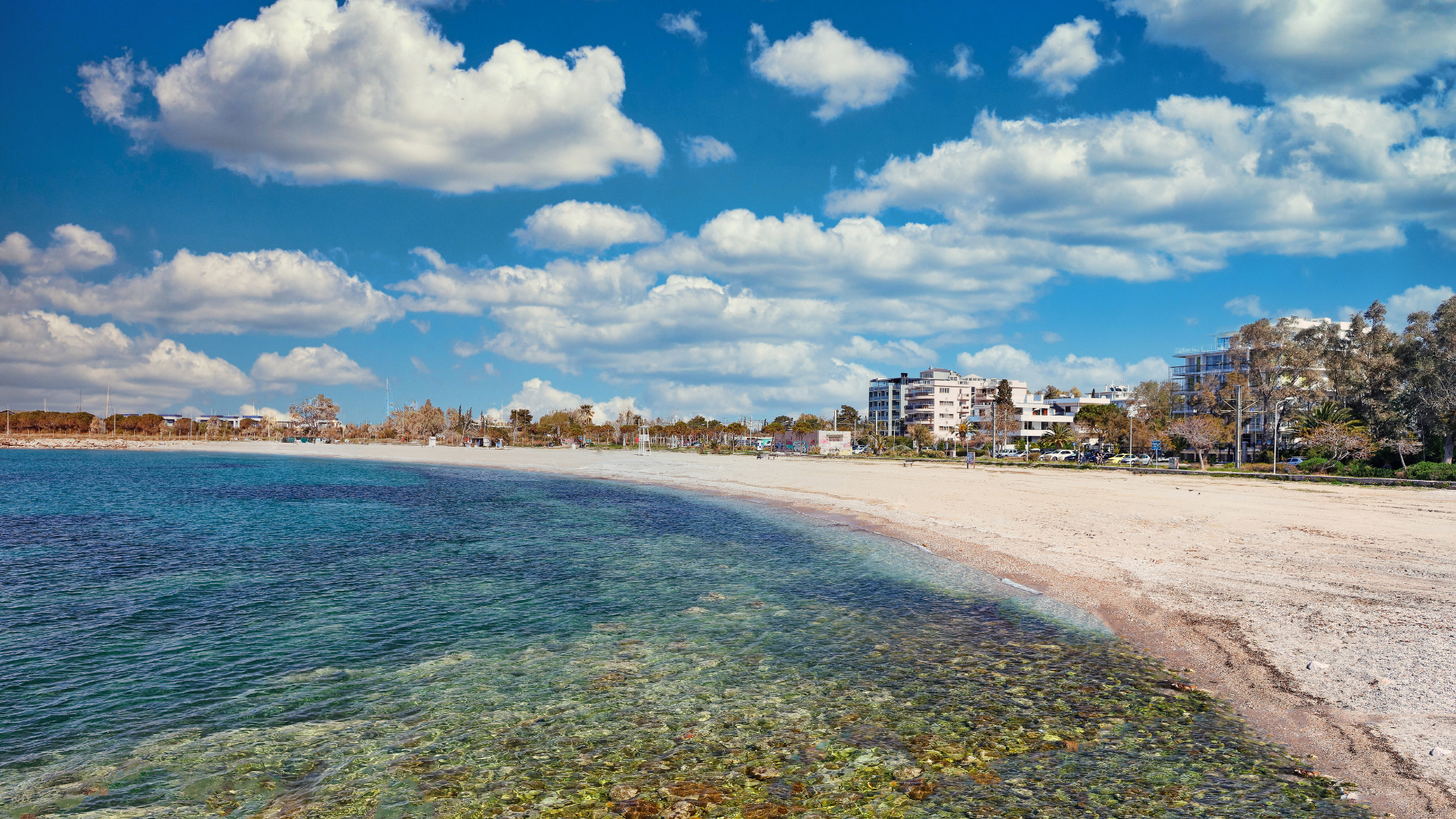 Picture by: Constantinos-Iliopoulos
Glyfada: The Answer to Where to Stay in Athens
If you're drawn to the sea, consider staying in Glyfada, a coastal suburb of Athens. With its stunning beaches, upscale shopping districts, and a range of water activities, Glyfada offers a different perspective of the city. Also, this area is a haven for relaxation and leisure, making it a perfect spot for travelers seeking a more laid-back experience.
Glyfada is famous for its upscale shopping districts that cater to those with a penchant for fashion and luxury. In fact, along the area's main avenues, you'll find an array of designer boutiques, international brands, and high-end retailers. So, whether you're looking for the latest fashion trends or unique finds, Glyfada offers a diverse shopping experience.
If you don't know where to stay in Athens Glyfada our top suggestions are:
Villa 1951: An elegant villa steeped in history from the 1950s, featuring a captivating glass-pool and enchanting garden, skillfully marrying classic charm with contemporary elements. Nestled within an upscale enclave of Glyfada, a mere stone's throw away from the beach. Specifically, this villa consists of two fully separate apartments, each with its own entrance – one on the ground floor and the other on the first floor.
Click here to find out more.
Elaia Luxury Apartments Glyfada: A refined retreat in the picturesque coastal suburb of Athens, Greece. Thus, with its upscale accommodations, modern amenities, and proximity to the beach, this boutique apartment complex creates an idyllic haven for travelers seeking a blend of luxury and relaxation.
Click here to find out more.
Conclusion
In conclusion, we hope this guide helped you pick where to stay in Athens. The cosmopolitan city of Greece offers a diverse array of neighborhoods, each with its own distinct character and charm. Whether you're captivated by history, culture, luxury, or the offbeat, Athens has a place to call home during your stay. The key is to match your accommodation choice with your travel preferences to ensure an unforgettable experience in this captivating city.